Over at
Eye of the Storm
the Piper/Aerrow thread asked what their kids would look like. ("blue + red hair = purple? Cyclonis?") I've spent too many times in capslock!communities not to seize an opportunity when I see it.
Point is: We could have started this party off with an intelligent discussion, but we're not. I am so so sorry. Crack reigned supreme.
you may smite me with thunder if this wasn't up to your expectations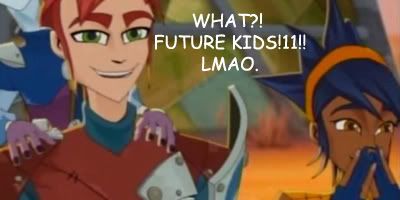 AERROW: ANYBODY SEEN MY TEENAGE WIFE? SHE WASN'T IN THE BUNKER THIS MORNING. I HAD TO WAKE UP ALONE. *MAKES SEXY EYES*
AERROW: FINN?
FINN: DO NOT TALK TO ME MAN. MAH EARS ARE RINGING FROM LISTENING TO THAT ALL NIGHT.

STORK: *APPROVES*
AERROW: *KINDA CREEPED OUT*

JUNKO: PIPER? SHE'S IN THE CRYSTAL CHAMBER
AERROW: OF DOOM?!
JUNKO: LAB.
L-A-B-O-R-A-T-O-R-Y
AERROW: AAAAH!
*PIPER'S WORKING IN HER CRYSTAL
CHRONICLES
, DECIDING WHAT COLOUR THE SPROGS HAIR WILL BE
PIPER: RED? OR BLUE?
SUPERMAN?
ZUTARA?

*SHE GOES FOR RED KRYPTONITE*

AERROW: OOOH, WHATCHA DOIN?

PIPER: IT'S ALMOST LUNCHTIME, Y'KNOW? FIRST DAY OF MARRIAGE AND YOU SLEEP IN?

PIPER: YEAH, FOURTH ROUND YOU WERE ALL "NRRRRGGGHH" AND PASSED OUT ON ME. GEE, THANKS.
AERROW: *DISTRACTS HER BY BLOWING ON THE NAPE OF HER NECK. OMG*

*AND THE SHOW'S RATING JUST WENT UP*

PIPER: OKAY, YOU'RE FORGIVEN. JUST TRYING TO SEE IF OUR OFFSPRING WILL LOOK HALF AS GOOD AS WE DO. I'M USING CRYSTALS AND "MAH INTELLIGENCE" TO SIMULATE THE FUTURE SINCE YOU'VE SMACKED THE ORACLE USELESS. DON'T QUESTION ME.
PIPER: OR NONE FOR A WEEK.

FINN: DUDE. THAT'S HARSH.

ANYWAYS... THEY WORK ...

AND PROMPTLY BLOW SHIT UP.

AND SOMETHING IS TERRIBLY WRONG IN THE UNIVERSE.
DARK ACE IS TRAUMATIZED-

-EVEN MEATLOAF IS FRIGHTENED.
MEATLOAF: I WOULD DO ANYTHING FOR LOVE. BUT I WON'T DO THAT.

SO RADARR DECIDES TO LOOK THROUGH THE LOOKING GLASS OF THE FUTURE AGAIN AND SEES...
ER, NO THANKS. RED HAIR = NO.
HOW ABOUT RED + BLUE = PURPLE
MASTER CYCLONIS?

D:


AAAAH, THAT'S MUCH BETTER.

BACK TO
THE FUTURE
REALITY
PIPER: ERM, MAYBE WE SHOULD WAIT A BIT.

AERROW: I CONCUR.

*RANDOM PIPER/AERROW MOMENT*

*AND ALL IS WELL....*
UNTIL THE WRITERS ARE HIT WITH A CASE OF JKR CRAPILOGUE SYNDROME.
THE END.
PS. WHY ARE YOU STILL HERE? GO AND COUNTERACT THIS ATROCITY WITH INTELLIGENT FANFIC/ART! GO GO GO!
Current Mood:
sick